Win cocktails, lunch and Champagne with Instagram!
Posted on March 12, 2015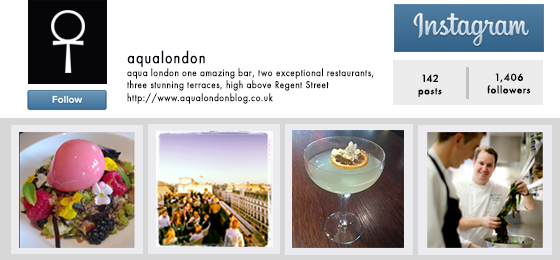 We love seeing all the images guests share of their experience here on Instagram and until next Wednesday, 18th March, we're running a photo competition with some great prizes!

We've chosen three categories, each with an appropriate reward for our favourite shot:
Best cocktail - wins complimentary cocktails for two between 7-9pm on a Monday or Tuesday night
Best aqua kyoto dish or aqua nueva dish – wins lunch for two in that restaurant
Best overall 'fun' shot (anything from you and your friends to a detail of the decor that you like) – wins a bottle of Champagne!
We're not expecting work worthy of Mario Testino, just something that captures your experience with us at aqua. Simply tag @aqualondon in your picture and use the hashtag of the area you're in – #aquakyoto #aquanueva or #aquaspirit – so that we'll be sure to see your entry.
We'll regram and announce each winner on Wednesday 18th March, so get snapping – and good luck!
You must be following aqualondon on Instagram and be over 18 to enter.