Meet the Chef – aqua kyoto's Paul Greening
Posted on June 12, 2014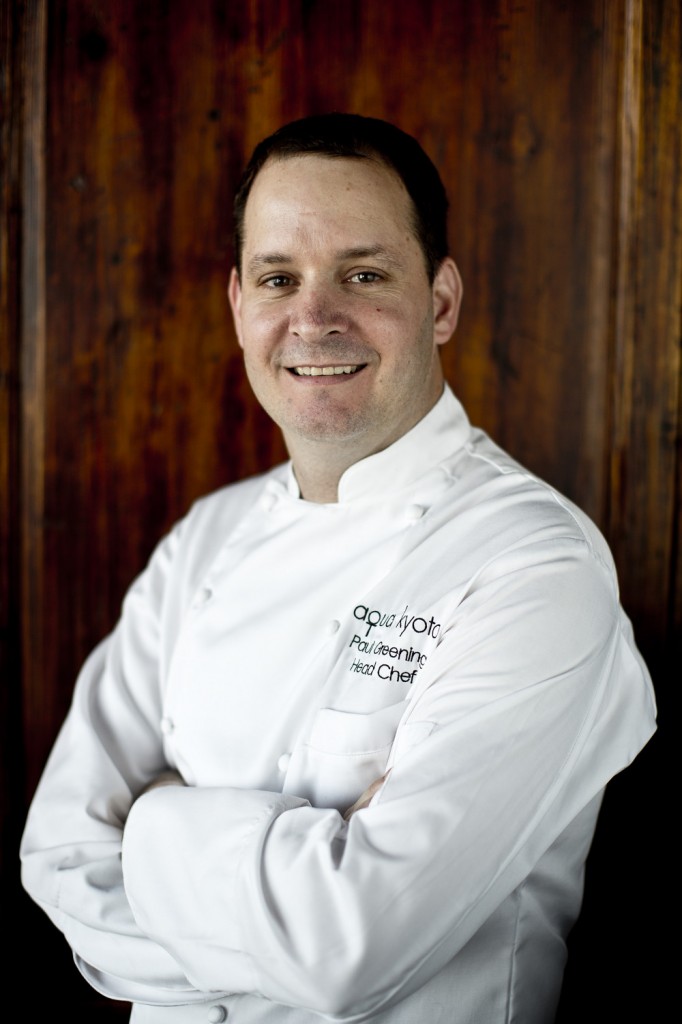 If you've eaten in aqua kyoto recently you'll no doubt have noticed that the food is not only delicious and authentically Japanese, but also beautifully presented and made using exceptional-quality produce as well as unusual foraged ingredients. Well now meet the man responsible for every exquisite plateful – aqua kyoto's head chef, Paul Greening.

New Zealand-born Paul began his culinary training in his native town of Nelson. Inspired by his marine biologist father and his grandfather, who owned fleets of fishing boats, Paul studied Microbiology at university and became interested in the use of this scientific discipline in food. He trained as a chef and quickly garnered awards including Commis of The Year and a silver medal representing New Zealand's Junior Culinary Team in Japan.
A desire for travel saw Paul move to the UK in 1998, where his career continued to take an upwards trajectory working for critically acclaimed chefs such as Simon Hopkinson, Marcus Wareing, Pierre Koffmann and Pierre Gagnaire. Paul later returned to the Southern Hemisphere where he began working at Pier, Australia's leading seafood restaurant. He became an expert on seafood, which he felt a strong affinity with given his family background.
In 2007 Paul decided to return to the UK firstly working with D&D London, overseeing the running of several restaurants including a site in Copenhagen. He opened the acclaimed restaurant Australasia in Manchester before returning to work at the Japanese restaurant in newly opened Novikov in Mayfair. After a year there Paul met David Yeo, founder of Aqua Restaurant Group, and took up his current position as head chef at aqua kyoto.
Paul's menu at aqua kyoto is inspired by the purity of Japanese cooking, using the very best of locally-sourced ingredients. His seasonal dishes and concepts showcase his innovation and confidence as a chef with a highly-stylised and explorative menu. Many of the pickled and fermented ingredients he uses he makes himself, and he also enjoys foraging. He's a keen user of Twitter and frequently tweets new dishes and ideas before they appear on the menu, and loves interacting with guests so do follow him and chat!
To experience Paul Greening's sensational Japanese cuisine, book a table at aqua kyoto on the About Us page. Then do let us know what you think in the Comments!