Meet The Team: Luca Missaglia
Posted on January 12, 2015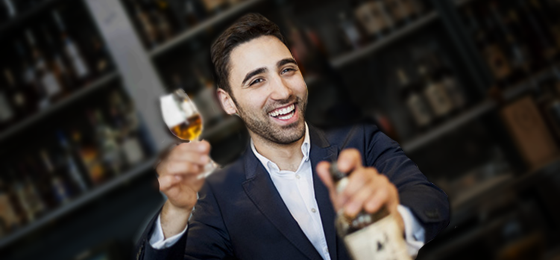 We're delighted to introduce our new bar manager, Luca Missaglia, a well-known figure on London's cocktail scene and a very welcome addition to the team. We caught up with Luca for a quick Q&A to find out more about him:
What is your career background – have you always worked in bars?
Most of my career I have been working in hospitality, the past ten years in bars and restaurants. I started as a coffee boy and worked my way up to bartender, and for the last four years I have been leading bar teams in different venues including Lab Bar and most recently Quo Vadis private members' club in Soho.
What would you say is your 'signature style' of cocktail making?
My signature style is classic and elegant but with a contemporary twist.

What is your favourite drink to make?
My favourite to make would be something like the Vesper Martini from the Classic section of the aqua spirit cocktail list; making classic drinks well is a very important skill in any good bar and I put all my passion and love into it! I also enjoy creating completely new drinks, which you can expect to see on the lists at aqua soon.
And what is your favourite drink to drink?
Coffee! I drink maybe ten a day.
What can we look forward to in the bars at aqua london in 2015?
The cocktail menu will be a unique experience inspired by Japan in aqua kyoto and aqua spirit and by Spain in aqua nueva. You'll also notice a change in the style of service to the customer; it will be more personalised, almost like in a members' club.
Do you have any top tips or advice for making cocktails at home?
My advice is to make a punch, one of the best ways to share a drink with friends, following this little song; one sour, two sweet, three strong, four weak. Mix up the ingredients in this way and you will have a fantastic punch to enjoy and guarantee a great atmosphere!
Thank you Luca!
Thank you! I look forward to meeting our guests in the bars at aqua london very soon.