Meet the team – Yahir Gonzalez
Posted on July 27, 2016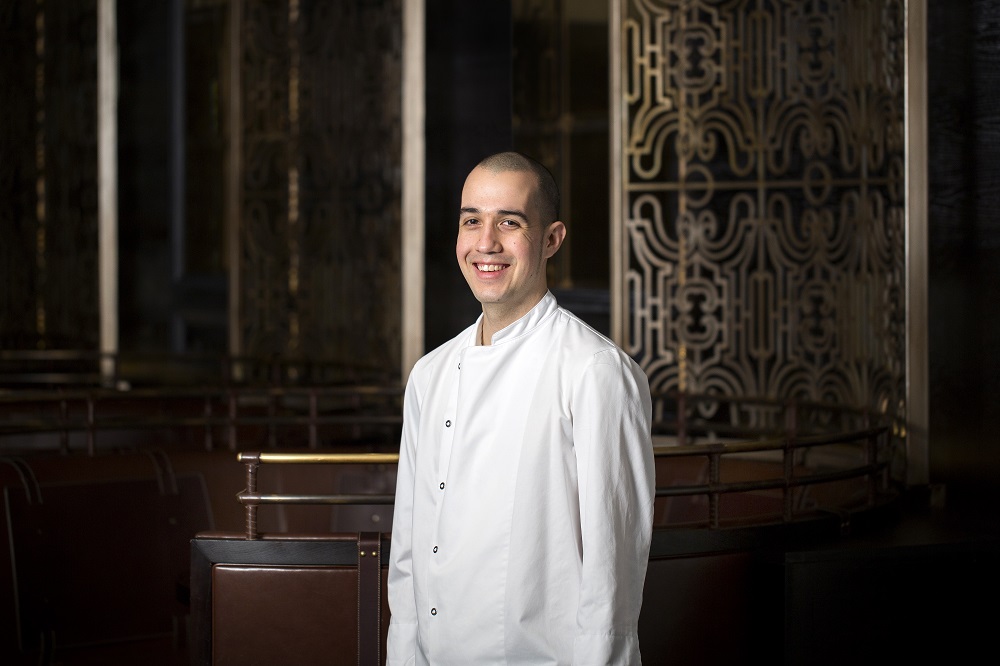 For our latest Meet the Team feature we spoke to our new Head chef at aqua nueva, Yahir Gonzalez. Originally from Mexico, Yahir trained in Spain and moved to London to open aqua nueva as sous chef.
Why did you decide to become a chef?
I always loved food – my first question when coming from school, at a very young age was 'what's for lunch/dinner?'. Food is such a big part of the Mexican culture I grew up in, we always sat down as a family to eat. Even if you weren't going to be home, your place would still be set at the table! Because of all of this, I felt becoming a chef was the natural choice!
Where did you study?
At 18 my parents asked what I wanted to do and I told them I wanted to cook. My father and I sat down and researched where I should study. My father concluded there were two options – one was in Mexico, the other in Galicia, Spain. As I was young, I thought it would be much more interesting to go to Spain, and it was, but it was also a shock. I thought I would be fine, as I spoke Spanish but the language is completely different there than in Mexico!
I studied there for two years and decided to stay.
Where have you worked in Spain?
I spent a lot of time working in Galicia. In particular I did a number of stages [the chef's version of an internship] at various restaurants, I wanted to keep learning. It's a good way to see if you can handle the unique pressures of being a chef. I think I learnt more in restaurants than at school.
I then moved to the Basque country in Spain.
This part of Spain has an excellent culinary reputation, with many Michelin star restaurants, what was it like working there?
I worked in an amazing restaurant. It wasn't a Michelin star, but the chef/owner was very respected and it was the place that all the chefs ate at. It was called Casa Nicolasa, but is now closed as he died.
It was a very old fashioned way of cooking, in the sense that we didn't have a fridge, so everything was fresh every day.
San Sebastian is a wonderful place to work. You get to know everyone in the other restaurants and have the opportunities to do mini-stages. For my holidays I would have two days off, and then three or four days in another restaurant, learning.
How did you come to work in aqua nueva?
I went to school with Alberto [previous Head chef] and we are good friends. When Alberto opened his restaurant, La Calma' in Salamanca, Spain I worked with him for a few years.
Alberto moved to the States and I continued to work in Spain, then one day Alberto called to say he was cooking for a restaurateur who was looking to open a Spanish restaurant in London, would I be interested? Alberto and I cooked a 16 course tasting menu for David Yeo and the rest is history!
What inspires you to cook?
For me it is all about respecting the produce. Take care of the way you treat everything, do it all with love and attention. This was something I learnt a lot about from the chefs in Galicia.
I am always telling my chefs to taste everything! I can give you a recipe, but I can't tell you if that garlic is young, or the orange is bitter.
What do you love about this industry?
My favourite thing is when a guest orders the same dish twice! There is no better feedback.
I also like it when regulars come. I am often working with my chefs to come up with new menu ideas (I think it's really important to include them in the creative process) and when someone we know comes into the restaurant we might send them a tester of a new dish.
What flavours do you like to cook with?
I love using fresh chillis. There is so much more complexity than just heat, you need to know the acidity and work the chillis into a dish to find balance. I also like to use lime! The combination of lime and chilli gives a kick to everything.
What do you do on your day off?
My wife is an excellent cook, so we invite friends over and cook together, preferably a BBQ. Friends are always coming back from Mexico and Spain with ingredients for me to use, so there is a lot of experimenting with these products.
 Where do you recommend going to eat?
London has a lot of amazing restaurants. But, if I was to give one tip, some inside knowledge – I would suggest a restaurant in Madrid, go to La Tasqueria de Javi Estevez. It is owned by a really good friend of mine, it's only a few years old. You do have to book in advance, as he has just won an award for 'Young revelation chef of the year'. It's my favourite restaurant.